Main Parameters¶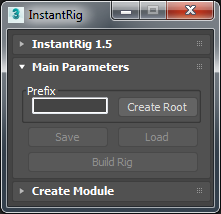 Prefix:

It allows rigger to naming character. Whenever enter something new, it renames all character.

Create Root:

It allows rigger to create main parent node of character in the scene. It's top of hierarchy. Everything branches from root node.

Save & Load:

It allows rigger to save or load rig prototypes.

Build Rig:

It converts everything to animation ready rig. Button only enabled if any part of rig selected.

Warning

Be sure to save a version before building the rig. It's not possible to edit rig after building.