Chain¶
Chains can be branch from any other module or from itself. It creates hierarchical fk chains for rig.
Chain Attributes¶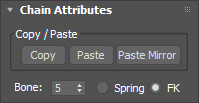 Copy:

Copy current limb pose.

Paste:

Paste last copied limb pose.

Paste Mirror:

It pastes copied pose as mirrored.

Bone:

Change bones count for chain.

Spring:

It builds chains with additional spring controllers which allow animators to create real time secondary animaions.

FK:

It builds only FK chains.